Covid patients experience a variety of symptoms affecting the upper respiratory system, including wheezing, coughing, and breathing issues. Many patients find that these symptoms start to subside as they recover from the virus. But some people experience long-hauler symptoms, with ongoing breathing issues that linger for months.
Unfortunately, Covid can cause lung damage, resulting in ongoing breathing issues that make it hard to participate in your favorite activities. If you are experiencing these lingering symptoms, then the best thing you can do is talk to a post-Covid specialist for diagnosis and treatment.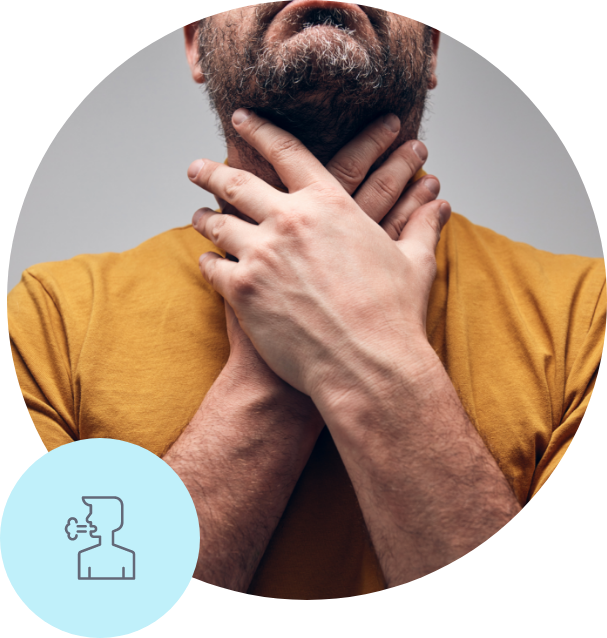 Symptoms: Post-Covid Breathing Issues
Breathing issues vary depending on the way a patient was affected by Covid. For example, you might be experiencing these breathing issues after Covid:
Difficulty breathing
Shortness of breath
Wheezing
Coughing
Some patients feel like they are having asthma attacks. Other patients notice a reduced function of their lungs, even in low-intensity activities.
Covid can cause many lung complications. Severe cases can lead to pneumonia, bronchitis, sepsis, or acute respiratory distress syndrome (ARDS).  
There are several factors that affect the type of breathing symptoms you experience, as well as the severity of these symptoms. First, the severity of your coronavirus sickness can increase the risk of long-hauler symptoms if you have a severe case since it can result in scars on the lung tissue. Additionally, pre-existing conditions can have an impact on lung damage.
Treatment for Breathing Issues
Prompt treatment is an important factor affecting a patient's long-term prognosis. Depending on the timing of this treatment and the type of care you get, it's possible to treat lung issues and minimize long-term symptoms.
Each person is unique, which is why there isn't a one-size-fits-all solution for treatment. The first step is diagnosing the problem, then designing a treatment program around the root cause.
Antifibrotic prescriptions can be helpful for some patients who are experiencing pulmonary fibrosis. Other potential treatments include the use of supplemental oxygen, incentive spirometer devices to measure breathing depth, deep breathing exercises, and lifestyle changes.
Working with a provider to improve lung function and capacity is a crucial step in optimizing energy and activities throughout the day. Seemingly simple lifestyle modifications, such as deep breathing or light-intensity exercising (such as walking), can support recovery by increasing the length of your inhalations and exhalations. As your healing progresses, you can increase the intensity of your exercise routines under the supervision of a provider.
In severe cases, a lung transplant might be necessary if there is severe scarring on the lung tissue. This surgery is only necessary for patients experiencing serious symptoms that aren't improving from other treatments.
Telehealth Services for Patients After Covid
If you are experiencing ongoing Covid symptoms, such as breathing issues, then it might be time for you to talk to a post-Covid medical specialist. Our experienced team at CovidEMT specializes in diagnosing and treating patients experiencing Covid long-hauler symptoms. You can meet with us from the comfort of your own home through the available telehealth services. Call at your convenience for more information at
1-888-965-3052
.