One of the most notable symptoms of the Covid virus is the reports of people losing their smell and taste. Have you noticed that you no longer have a sense of smell, even though you are recovered from a Covid infection? This Covid symptom can be persistent, leaving patients frustrated for months or even a year before the sense of smell comes back.
In fact, some researchers found that an estimated 25% of Covid patients who lost their smell during the active infection still lacked the ability to smell 2 months later. If you are experiencing these long-haul symptoms, it's time to talk to a Covid specialist to explore different treatment options.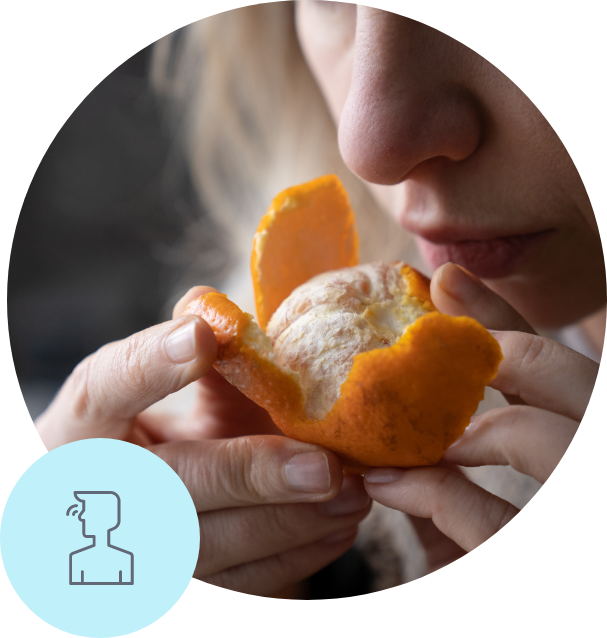 Loss of Smell and Associated Symptoms
What is it like to lose your smell? Most people notice the lack of smell the most when they are around food or experiences that include strong odors. For example, you might be cooking in the kitchen and unable to smell the spices in the food. It causes a disconnect because your eyes can see the visible evidence, but there is no matching smell sensation to go with the moment.
This symptom is known as smell dysfunction (parosmia). Most of the time, it's a temporary loss of smell (anosmia). But some patients have ongoing symptoms because of the way the olfactory system was affected by the virus. Sometimes, loss of taste (ageusia) also accompanies the loss of smell in Covid patients.
You might notice that you lost your smell suddenly or gradually during the Covid infection. But, then, the sense of smell doesn't seem to return, even though other symptoms subside after recovery.
Some people have a complete loss of smell. Others notice that familiar scents smell differently than they remember from pre-Covid experiences. One related symptom of a loss of smell is weight loss since food is less appetizing when you can't smell or taste it.
Treatment for Loss of Smell After Covid
Your provider will help you identify any underlying health issues that might be contributing to the loss of smell. The best way to treat this symptom is to address the root cause. For example, if a sinus infection was a secondary infection from Covid, then antibiotics for the sinus infection might restore your smell.
But many patients have no other identifiable causes impacting their smell after Covid. In this situation, the best solution is to talk to a Covid specialist about treatment options.
It's not common for Covid to cause a permanent loss of smell. As you continue your recovery, the body can rebuild the nerve support cells that manage the olfactory system. Eventually, these cells can heal completely. But you might need extra support to overcome the lingering symptoms. Also, some patients need to retrain their brains to interpret the smell signals it hasn't experienced in a long time.
Telehealth for Post-Covid Patients with Loss of Smell
If your smell hasn't come back yet, or you are still experiencing other post-Covid symptoms, then it's time to reach out to our expert team at CovidEMT. Our telehealth services are custom-designed for patients with ongoing Covid symptoms. Schedule an appointment with a post-Covid specialist to learn more about available treatment options:
1-888-965-3052
.